A large aperture telescope should be easy to move, easy to set up, and should perform flawlessly. There are many companies producing scopes these days.  Many are fine instruments.  We have chosen to produce a telescope that is superior in quality and construction. We have cut no corners.  We use only the finest components to build our telescopes, making them as much a pleasure to look at as to use.
We know that you want choices when it comes to your own observing gear. We will customize your scope to your specifications. 
   Large aperture telescopes
   for the discriminating observer.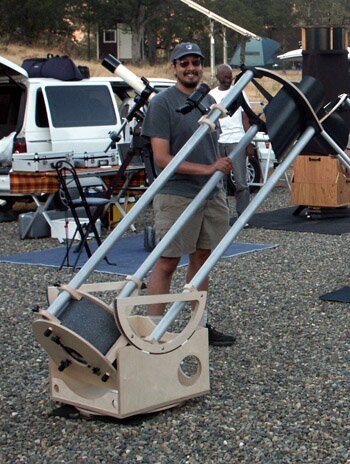 Richard Navarette checks out a new 15" F5 at a recent star party in the Sierra Nevada foothills.

Every scope is tested under the dark skies here at Plettstone.  We will personally guarantee that your new scope performs to our high standards.
Paul E. Plett and Michelle Stone
---- Proudly Made In the USA ----